Chinchilla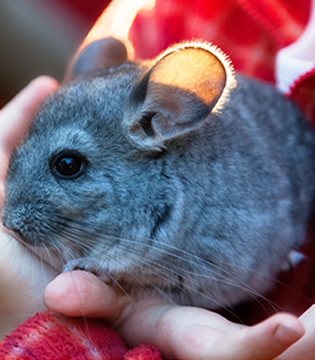 ORIGIN
Historically, chinchillas lived in an area that included parts of Bolivia, Peru, Argentina, and Chile, but today, colonies in the wild are known only in Chile.
SEX
Male and Females live in Herds aka colonies
WEIGHT
Up to 1.4KG (Short Tail)
HEIGHT
12 cm (Height)
LIFESPAN
Up to 10 years
ANIMAL POPULATION
Unknown


Did you know?
1
Just like in any other rodents, the teeth of chinchillas grow continuously.
2
Chinchillas are rodents that are native to the Andes Mountains of northern Chile
3
Often kept as pets, chinchillas are also prized for their luxuriously soft fur and were nearly driven to extinction because of the demand.
4
Argentina, Bolivia, Chile and Peru banned the hunting of wild chinchillas.
5
They have four toes on each foot,
6
Chinchillas are omnivores; they eat both plants and meat
7
There are two species of chinchillas: the long-tailed chinchilla and the short-tailed chinchilla
8
Chinchillas are thought to be smarter than rabbits and can be taught to play with humans.